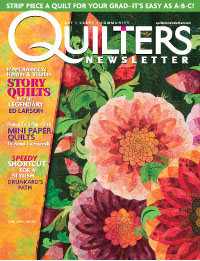 The Voice of the Quilting World!
"You bring the entire quilting world to my mailbox. You keep me current on the latest in quilting, as well as inspired."

-LuAnn Kessi, Harlan, OR
"You are blending new ideas with the tried and true, and making your number one magazine better and better..."

-Sharon Fry, Sonoma, CA
"I fell in love with your magazine in 1980, and I fell in love all over again with your latest issues! ... More human interest columns - hooray! (I'm) interested in the many aspects of quilt-making. I want exposure to all of them, and I want the journey to be a treat for all my senses. You have succeeded marvelously!"

-Sharon Fields, Knoxville, TN

Subscribe today and pay 36% less than what you pay on the newsstand!* You'll receive a full year (6 issues) for only $19.95, plus $3 postage and handling. Act now and you'll also get a FREE Pattern to print and begin making – just for ordering today! Simply fill in the form below.