Act now and receive 2 FREE ISSUES of The Artist's Magazine and you'll improve your art with tips and techniques from the world's best artists! Each issue is packed with:
step-by-step, full color instruction to help you enhance your creative skills
expert advice about painting techniques, materials and tools
the most up-to-date information about seminars, workshops, exhibits, and competitions
a wide range of painting styles and subject matters to choose from
and much more!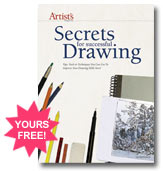 To get your 2 FREE ISSUES, simply fill out the order form below. If you enjoy your free issues, you'll get 8 more (a total of 10) for the low price of $19.96. If you do not wish to subscribe, simply write "cancel" on our invoice, return it, and owe nothing. The 2 free issues are yours to keep, no matter what.
Plus, with your paid subscription, you'll get this full-color, beautifully illustrated booklet-Secrets for Successful Drawing-absolutely FREE!
From basic drawing tools and how to use them, to specific working tips and techniques from some of today's top artists, Secrets for Successful Drawing is jam-packed with everything you need to improve your drawing skills right now!
Don't wait! Fill out the form below for never-ending inspiration!