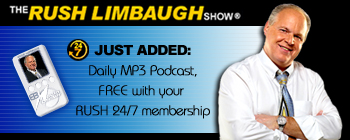 Rush! Sign me up for 1 month of Rush 24/7 including 4 weeks of audio and website archives, Parody library and FREE Podcasting!
Join RUSH 24/7 and get high quality audio streaming of Rush's award-winning radio show, access to his radio program and web site archives, Rush's Total Stack of Stuff, the Dittocam and MORE! Now you can join RUSH 24/7 at the low monthly rate of only $6.95.

To order a Gift of RUSH 24/7, CLICK HERE.
Gift Subscriptions are not available on a monthly basis.